AC2000 Time Hub (enhanced Time & Attendance)
AC2000 Time Hub (enhanced Time & Attendance)
The CEM Systems AC2000 Time Hub enhanced Time & Attendance module provides reliable time keeping with improved user experience. AC2000 Time Hub helps to avoid costly payroll errors, under or overstaffing and inefficient time recording.
Integrated into the AC2000 system, Time Hub is available as a client or web application, and is a reporting method for the office manager/administrator who requires statistics on the entering and exiting of staff.
Zoom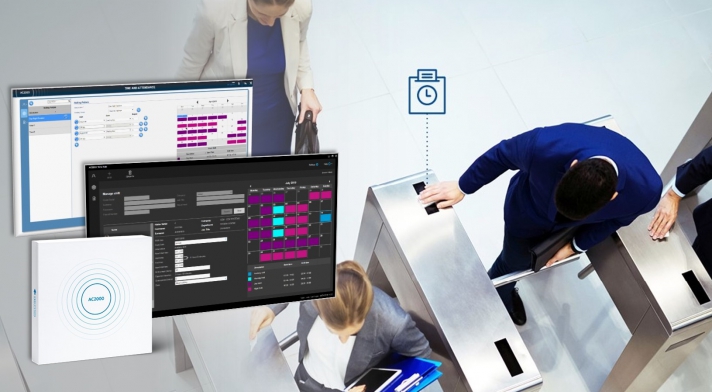 It provides a very powerful, configurable tool that allows the administrator to set up, manage and assign shift patterns (working week and rolling), statutory holidays, and forgotten cards. These can be assigned to an individual cardholder or as a batch to a group of cardholders.
Rather than installing a separate timekeeping system, existing pass cards and readers can be used for both access control and Time & Attendance. Any number of readers on the system, at any location, can be configured as designated IN and OUT readers for the purposes of time and attendance. As each member of staff presents a card their transactions are populated into the AC2000 database.
Statutory holidays can be defined and assigned to ensure accurate Time & Attendance reporting. AC2000 Time Hub can also record out of office reasons (holiday, sickness, off site meeting, etc.) and forgotten cards that will be reflected on the Time & Attendance reports.
Easy to read reports are generated to provide an overview of employee entry and exit times.
The AC2000 Time Hub module automates time-consuming administrative tasks and provides accurate employee attendance data that can be used with many third party products such as a dedicated payroll system for accounting purposes.
Features
User-friendly modern interface.
No additional Time & Attendance hardware required. Utilises existing access control readers and system.
Highly configurable shift management. Manage and assign shift patterns (working week and rolling), statutory holidays, and forgotten cards.
Easy to set up and manage shift patterns, time and attendance zones, holidays, working weeks, and assign to individuals or groups.
Record out of office reasons.
Identify and amend missing swipes for more accurate Time & Attendance reporting.
Selection of problem areas to flag up e.g. late starters, invalid swipe in/outs, etc.
Data can be exported to PDF or CSV file for payroll purposes
Option to schedule regular reports
Resources