AC2000 Online Rolling Transaction Display
AC2000 Online Rolling Transaction Display
The CEM AC2000 Online RTD (Rolling Transaction Display) application features a split screen view of real-time transaction outcomes and alarms on the AC2000 access control system.
When a card is swiped at a reader, the cardholders stored image and associated personnel details are displayed. This allows security to perform a visual security check that the right person is using the card.
Zoom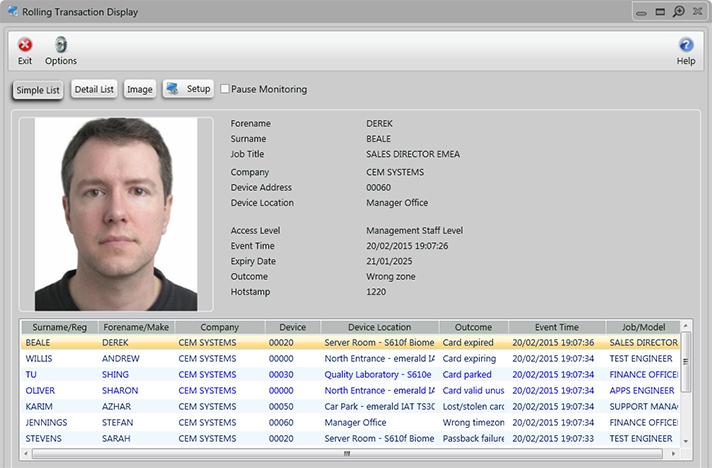 The main function of AC2000 RTD is to display real-time photographic and text based information on all cardholder, visitor and vehicle transactions that occur on the AC2000 system. AC2000 RTD features a dual window option, allowing users to display full screen image and transaction outcome in addition to the standard view.
Features
Online display of real time transactions
Highlights lost/stolen transactions and where they occur
Door can be remotely opened via a command once operator verifies cardholder access
Used in conjunction with AC2000 Security Hub application and integrated CCTV for complete command and control functionality
Customized audio notification of transaction
Full audit trail of transactions viewable in one window
Resources