Schindler Lift Interface
The AC2000 Schindler Lift interface provides seamless unidirectional communication between, AC2000 and Schindler servers.
When entering a building, cardholders swipe on AC2000 card readers for access.
AC2000 sends the details of valid cardholders entering, to The PORT Technology system which then provides Destination-Dispatch services to ensure cardholders reach their destination floor efficiently.
Cardholders will be directed to the most efficient lift journey via The PORT Technology pedestals. Pedestals in the lift lobby area can also be used by cardholders for administrational tasks such as to change their floor destination for a single journey, a period of time, or permanently.
The AC2000 Schindler Lift Interface provides an automatic validation interface which allows a single enrolment process via AC2000 for both systems.
Zoom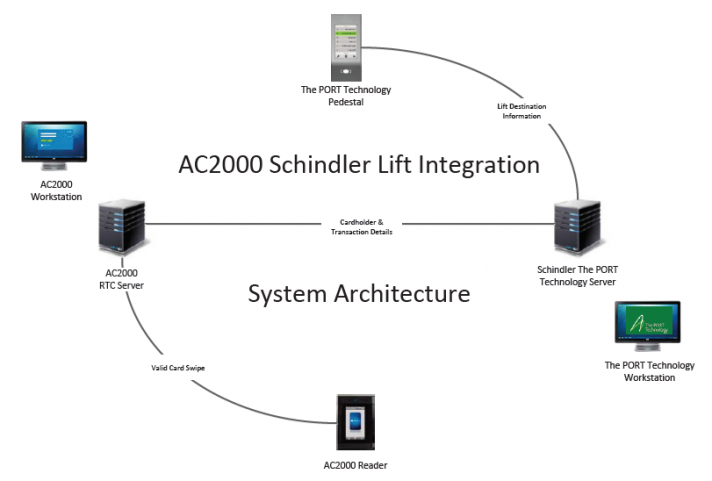 Features
Seamless unidirectional integration with Schindler, The PORT Technology system
Use the power of AC2000 to protect your site, whilst enjoying Destination-Dispatch services from The PORT Technology for efficient people flow
Efficient single enrolment and automatic validation process for cardholders via AC2000 for both Access Control and The PORT Technology systems
Systems are connected via TCP/IP, no additional AC2000 hardware products are required
Resources