eDCM 380 Encrypted Two-Door PoE Controller Supporting sPass Readers
eDCM 380 Encrypted Two-Door PoE Controller Supporting sPass Readers
The eDCM 380 (Door Control Module) is a low cost, two-door PoE controller designed to interface to CEM sPass DESFire smart card readers.
The eDCM 380 features Power over Ethernet Plus (PoE+) connectivity. Working in conjuction with a PoE+ Midspan power injector between the network and the door, the eDCM 380 can power door furniture and two maglocks via a single CAT 5e/6 network cable. PoE+ also has the benefit of eliminating the need for an external local mains power supply at the door. Using just a single Cat 5e/6 cable to power the door(s), the eDCM 380 unit can offer significant cost savings.
eDCM 380 supports CEM sPass DESFire smart card readers via encrypted RS485 interface. By utilizing encrypted RS485 serial communications between the DCM 380 controller and the sPass reader, the threat of Wiegand controller signal cloning is effectively eliminated.
Zoom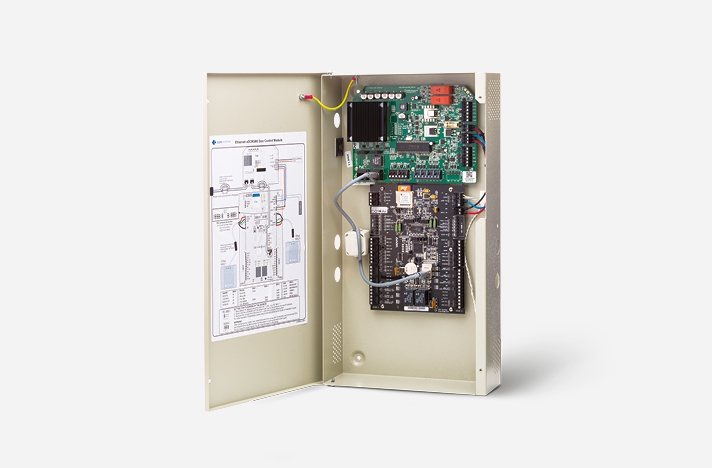 The eDCM 380 supports two door configurations. It can either be configured for one sPass reader on each separate door, with optional Exit push buttons, or can be configured to support two sPass readers (an Entry/Exit configuration) for bi-directional control on a single door.
Features
Intelligent two door controller supporting CEM sPass DESFire smart card readers
Onboard 10/100Mbps PoE+ Ethernet connectivity to power door equipment via a single CAT5e/6 cable no local mains required
Communicates directly with the central
AC2000 access control system
Database supports 200,000 cardholder records for off-line card validation
Reader communications via encrypted RS485
Eight monitored inputs (four available per door)
Four outputs (2 per door)
Self resetting fuses; saves maintenance time
Onboard LED provides visual status information
Dedicated tamper input
A supervised input can be mapped to a physical output
Resources
Technical Documentation