DCM 200 Intelligent Two-Door IP Controller
DCM 200 Intelligent Two-Door IP Controller
Intelligent True Two-Door Controller - The DCM 200 (Door Control Module) is an intelligent two-door controller designed to be highly secure and directly interface with CEM Systems AC2000 access control software (version 10.2 and higher). It also supports up to four Wiegand or CEM Systems approved Open Supervised Device Protocol (OSDP v2) smart card readers. These OSDPv2 compliant readers can be used (Entry/Exit configuration) for bi-directional control on two doors.
OSDP V2 Support - OSDPv2 is a secure access control systems protocol standard developed by the Security Industry Association for peripheral devices. With added secure AES 128 encryption, it provides bi-directional communications and advanced security features for connecting OSDPv2 compliant card readers to DCM 200 control panels, eliminating the threat of Wiegand signal cloning.
Zoom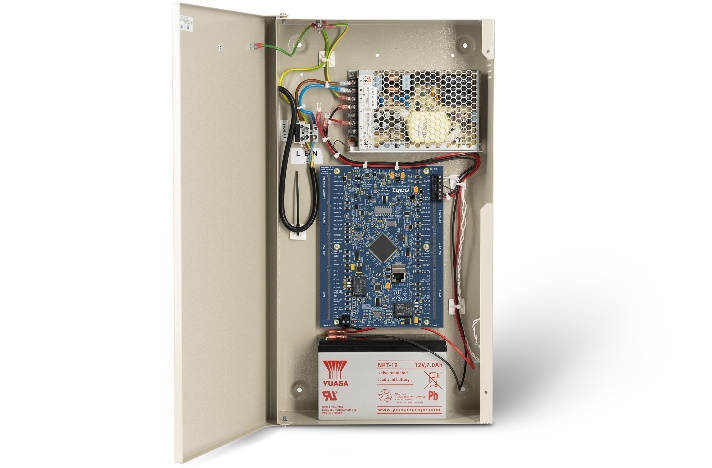 Using powerful 32-bit processors, the DCM 200 gives full on-line or off-line verification and decision making at the point of entry, even when host communication is not available.

Designed for Security
The DCM 200 uses a Secure boot and Secure upgrade mechanism to protect the operation of the system.
Easy to Install
The DCM 200 is designed to be extremely easy to install. The installer simply configures IP address by selecting DIP switches, using DHCP or auto-configuration, provides it with power, connects to an Ethernet network and the reader self-configures and receives the database at a rate of up to 50,000 cardholders in under 2 minutes.
Web Dashboard
The DCM 200 dashboard can assist with local and remote troubleshooting, monitoring and configuration of the DCM 200, and equipment connected to it. The dashboard provides users with visual indicators and details on power supply status, door status, input states, output status, network status, and database status. The dashboard also allows users connected to the DCM network the ability to remotely configure network settings and current limits for outputs (read heads, locks and auxiliary outputs).
Future Proof Migration
Each door of the DCM 200 Controller can support either Wiegand or OSDPv2 readers, with a mixture of both supported on the same board. This provides a future proof solution for those that wish to migrate from Wiegand readers to more secure OSDPv2 readers.
Features
Support for a full two door set and four readers (Full 2 door IN/OUT access control)
Supports Open Supervised Device Protocol Version 2 (OSDPv2)
Secure TLS v1.2 communications to host server
Secure Element on Board for Secure Key Storage, Update and Boot
High performance deterministic door control process
IPv4 10/100 Mbps Ethernet Host Connection
Dedicated Fire Input
Future support for IEEE 802.1x network authentication
High performance future-proof CPU
For use with AC2000 Security Management System
Resources