AC2000 WEB Visitor Management
AC2000 WEB Visitor Management
AC2000 WEB Visitor Management is a powerful tool that enables users to request and manage temporary cardholders (visitors) from any location via a standard web browser.
With an easy to use front-end web application, users can simply add visitor details, photos, sponsor details, reason for visit, visit duration and access level required.
Zoom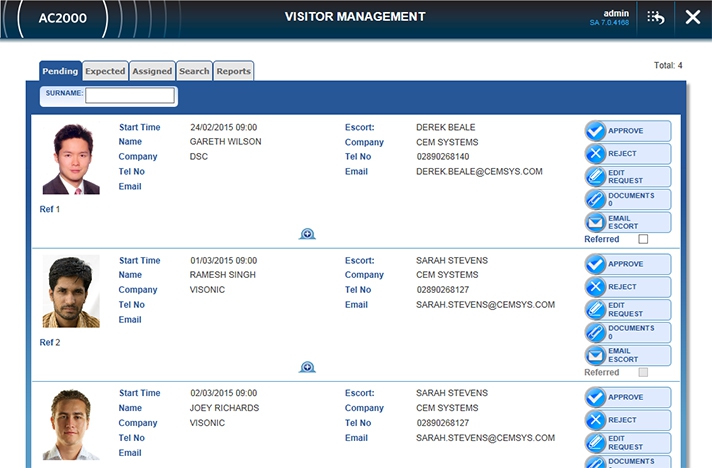 Using a secure login, authorised personnel can easily request visitor access remotely via a web browser. As the application is web browser administered, users can have access to the AC2000 Visitors module without the need for dedicated client access control software installed on their PC.


Features
Remotely manage visitor access control via a standard web browser
Cost effective way for multiple users within a facility to manage visitors without having dedicated access control software installed
Record visitor details, reason for visit and staff sponsor details
Automatic email notification to both visitor and selected visitor sponsor
Remotely upload visitor images via the web prior to a scheduled visit
Full ID card printing capability
Trace facility for visitor cards
Allocate visitor time permissions & access levels as well as visit duration
Reuse visitor cards
Customisable text fields and usage of User defined fields
Full history of visits stored for reporting – replaces need for manual paper-based visitors log
Secure web page data transfer utilizing Hyper Text Transfer Protocol with Secure Sockets Layer (HTTPS)
Resources
Technical Documentation