Education City of Glasgow College
The City of Glasgow College is a £228 million twin site 'super college' in the heart of Glasgow. CEM Systems AC2000 security management system was selected and installed by partners FES Group to secure over one-thousand doors over two campus sites with over thirty-thousand cardholders.
Zoom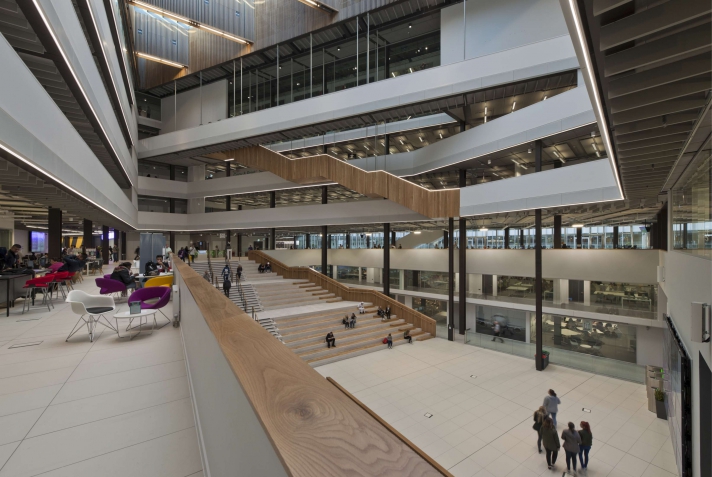 The college brief required a large, highly proven and fully integrated IP security solution that incorporated the very latest in security technology and had the flexibility to be easily extended/upgraded to meet changing requirements over time.
CEM Systems AC2000 is a powerful access control platform with the capability of supporting an unrestricted number of doors and cardholders. It provides City of Glasgow College with longevity and the scalability to adapt its security management system when required.
College entry is controlled using highly encrypted electronic smart cards with security barriers and card readers positioned at entrances to restricted zones.
Over 970 doors (including all classroom doors) were secured using wireless locks and utilising Power over Ethernet technology. Real time wireless door events were also seamlessly integrated
into the CEM Systems AC2000 system for centralised control and monitoring.
A range of CEM Systems intelligent IP card readers were also installed to control external doors and other high security pinnacle areas around campus. CEM Systems S610e DESFire IP readers with keypad for additional PIN security where installed, along with CEM Systems sPass smart card readers and CEM Systems DCM 350 intelligent two-door door controllers.
CEM Systems AC2000 AED provides a dynamic and realtime view of all access control and integrated building alarms/events that occur via the CEM Systems AC2000 system. CEM Systems also provided an open architecture CEM Systems AC2000 API (Application Programming Interface) which enabled the college's internal IT team to conduct their own interfaces with the access control
system.
In 2018 the college installed the innovative CEM Systems emerald access control terminal for Time and Attendance trial purposes on speed gates. With an integrated access control and staff 'Time and Attendance' application directly on the emerald terminal at the gates, staff can record their Time and Attendance IN/OUT times for human resource monitoring and reporting.