AC2000 Alarm Event Display
AC2000 Alarm Event Display
A2000 Alarm Event Display (AED) provides central alarm and event management for the AC2000 access control system and integrated sub systems. AC2000 Software v7.1 & below
As a security management system (SMS) and using the highly proven AED application, AC2000 can effectively monitor for a condition in one integrated sub system and cause an action in another. For example view live video pop up upon a perimeter breach or intruder alarm. AC2000 AED responds to all alarm situations in real time providing an on-screen interface to systems with advanced graphical maps, live video pop up and remote door broadcasting.
Zoom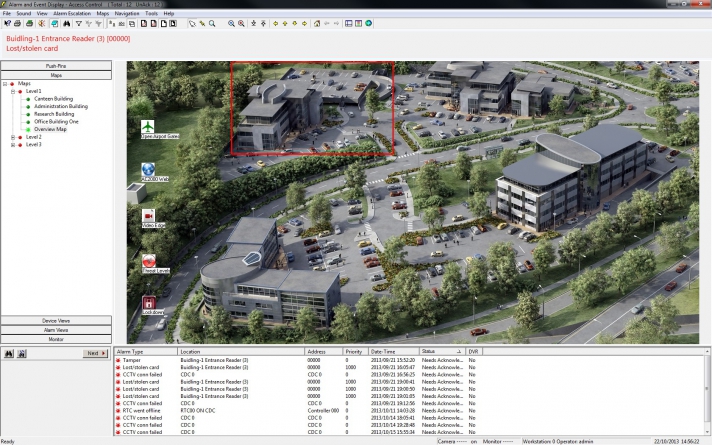 AC2000 AED provides users with a wealth of useful alarms processing features including dynamic icons, automatic zoom and advanced navigational tools. Operators can also record ongoing comments on the system, which act as a valuable archive of all daily system activity.
AC2000 alarms on AED can be escalated to a supervisory workstation if not acknowledged after a set period of time.
Features
Provides central alarm and event mangement forthe AC2000 access control system and integrated sub systems, such as CCTV and Intruder
Real-time graphical alarms processing
User definable alarms and alarm priorities
Password protected user login
Advanced graphical maps – any number of maps, floor levels, and zoom levels
Dynamic, resizable icons representing status of system/devices
Executable icons configured to activate 3rd party applications
Advanced 'easy to use' navigation tools including Pan Window
Facility to open remote door
Batch Acknowledge/Cancel alarms
Alarm filtering capability
Automatic zoom to graphic/floor plan of selected alarm
'Text Journals' available for operator reporting on events
Trace cardholder and movement history facility
Guard Tour monitoring
Advanced reporting features
Alarm Escalation
Resources