AC2000 Instant Data Export Tool
AC2000 Instant Data Export Tool
The AC2000 Instant Data Export Tool process is a perfect solution for low-level integration where Security Management System database changes are automatically reported to third party systems such as Human Resources or Enterprise Resource Planning. This means that the database of an interfaced third party system can be continuously synchronised with the AC2000 database without developing a custom AC2000 system integration.
AC2000 Instant Data Export Tool is a highly configurable process running on the AC2000 Central Database Controller (CDC). It provides real-time monitoring of the following actions; database table value changes (database audits) Insert, Update, Delete and card swipe transactions.
An AC2000 database table or group of tables can be marked for monitoring by the 'aud_sock' process for changes including Insert/Update/Delete. Once this is configured any card transaction or configured database audit will trigger a broadcast of the ASCII text string to the TCP/IP network port.
Zoom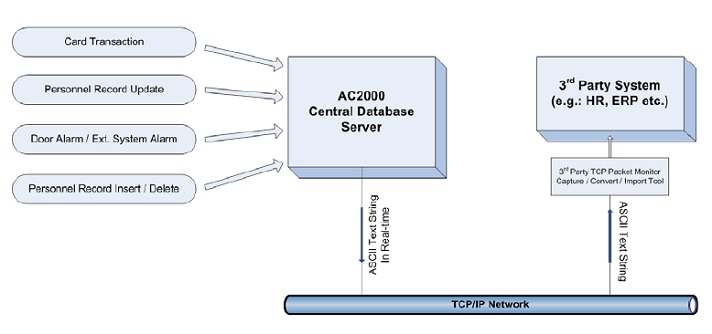 Features
Efficient low-level integration to a third party external system
AC2000 database changes and transactions transmitted through TCP network in real-time
Automated process – once autostart is configured it will remain active as a Server process
Useful for automated real-time updates to external system database
Uses industrial standard TCP/IP network
Does not require custom AC2000 interface development or integration
Resources