Leisure & Hospitality Aviva Stadium
A decade after the €410 million Aviva stadium in Dublin, Ireland opened, this case study reflects on the formation of a successful partnership which saw the state-of-the-art venue equipped with a fully integrated electronic safety and security solution from Tyco. Tyco's CEM Systems innovative access control was installed, along with Illustra IP high definition cameras, American Dynamics video management systems and Zettler fire panels. All integrated and managed via one victor unified security monitoring platform.
Zoom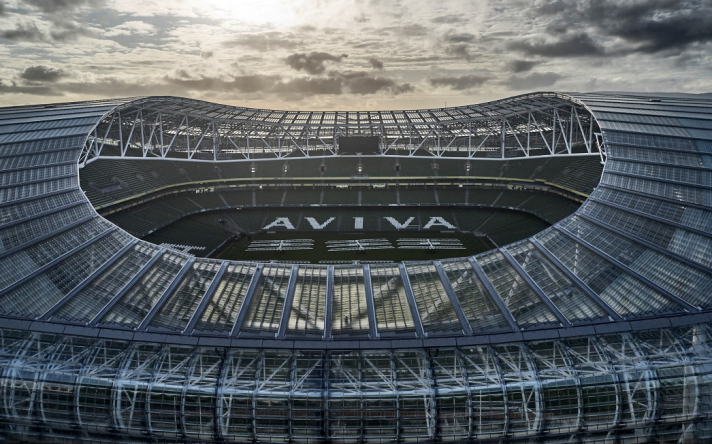 Requirement
Aviva Stadium required a robust, reliable and highly proven security management solution that would assist them with the challenge of managing large crowds and keeping visitors safe. With so many systems being implemented in the new stadium, they also required a fully integrated solution which could be managed via one single software platform.
Solution
To meet this need, Tyco successfully provided a holistic solution with the victor security monitoring platform fully integrated with CEM Systems' AC2000 access control, Zettler fire panels, American Dynamics video management systems and Illustra IP high definition cameras.
The Tyco - CEM Systems AC2000 access control system is ideal for large sites such as stadiums. It offers powerful, highly scalable access control, with sophisticated photo ID badging and the flexibility of deep levels of integration with third party systems. The Aviva Stadium found AC2000 software applications such as VIPPS (Visual Imaging and Pass Production System) ID badging and AC2000 Time and Attendance particularly beneficial. VIPPS provides Aviva with a cost effective method of producing their own permanent and reusable ID passes for staff and site contractors, whilst AC2000 Time and Attendance provides a configurable tool for the stadium to run reports on the number of hours worked by both full time and temporary staff.
There are over 200+ door access readers installed throughout the stadium. These help control access to private or sensitive areas such as broadcasting rooms, as well as to control lifts and movement through turnstiles. Aviva utilises the access control system to differentiate site access between matches and concerts - with the North stand closed off during concerts for all except authorised engineers and equipment personnel who require access to the stage.
emerald access terminals
CEM Systems innovative emerald touch screen readers have also been installed at Aviva which are being used for door access and for branding purposes.
"When building our world class stadium in 2010, we looked for world class partners. With Tyco, we are very happy that we made the right decision. We continue to have a very close working relationship with the Tyco team who understand the unique requirements of our stadium and, on an ongoing basis, assist us with the implementation of new leading technologies."
Martin Murphy, Stadium Director, Aviva Stadium