Type 2 B Encrypted Lift Interface
Type 2 B Encrypted Lift Interface
Lift control for up to 16 floors using CEM sPass encrypted readers
Depending on how many floors need controlled, each elevator must have a Lift Control Interface, which is used in conjunction with the CEM S9032 Lift Controller. The CEM Type 2B Lift Control Interface controls up to 16 floors using CEM sPass readers.
The LCI unit directly connects to a lift floor selection panel. The LCI unit outputs activate buttons on the elevator floor selection panel according to the access permissions of the card holder. The LCI inputs then record which button was pressed.
The Type 2B LCI is fitted with one output card (16 outputs), one input card (16 inputs), and a power supply unit all mounted in an enclosure. The Type 2B LCI links to a DCM 350 board to host an external CEM sPass read head. The external CEM sPass DESFire reader is normally fitted within the elevator cabin adjacent to the floor selection panel.
Zoom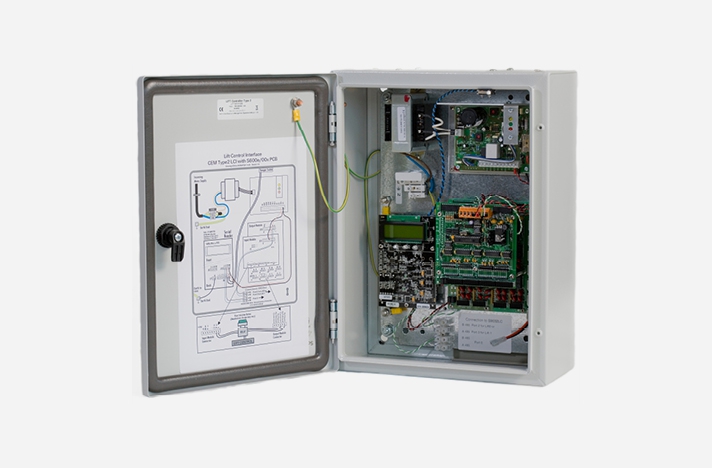 Features
CEM S9032 Lift Controller, an intelligent embedded network device for control of lifts within the CEM AC2000 security management system.
One S9032 lift controller can support up to two lifts.
Inputs in the Lift Control Interface unit can record which elevator floor selection panel button was selected.
Reportable card holder traceability throughout building floors.
Encrypted RS485 communication from the DCM 350 controller to CEM sPass DESFire readers.
CEM Smartcard with 3DES or AES encryption.
Type 2B Lift control interface comes in steel enclosure with inbuilt tamper protection.
Resources