SimonsVoss SmartIntego®
Wireless Digital Locks Integration with CEM Systems AC2000
SimonsVoss SmartIntego® wireless locking technology provides CEM Systems AC2000 customers with a convenient way to add the flexibility of wireless locks to any door in an AC2000 secured facility.
The SimonsVoss SmartIntego locks are managed through the AC2000 security management system, enabling the remote monitoring of alarms and remote door opening. All cardholder management, access rights and scheduling are managed through the AC2000 software.
When highly secure CEM Systems intelligent card readers are not required, or where it is not possible to hardwire communications to a reader, SimonsVoss SmartIntego wireless lock technology can be fitted, creating a fully integrated and managed lock solution within the AC2000 access control system. This eradicates the need to exchange or update user credentials to support wireless locks.
Zoom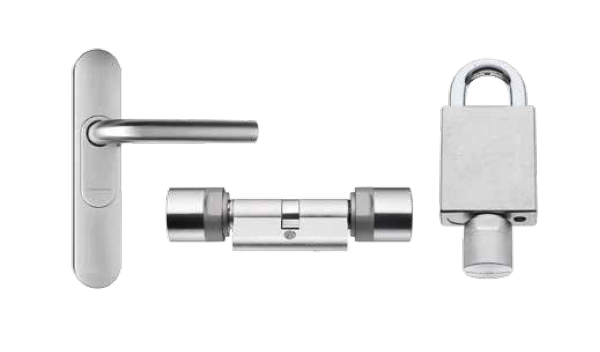 SimonsVoss SmartIntego GatewayNode
SimonsVoss GatewayNode ensures continued connectivity and acts as an intermediary device, facilitating two-way communications between the SmartIntego locking products and CEM Systems AC2000. A series of unique characteristics transform the radio-based GatewayNode with TCP/IP interface (PoE 802.3af) into an exceptionally powerful access manager. Each GatewayNode is capable of communicating with up to 16 locking devices via an 868 MHz wireless connection capable of transmitting white list data from AC2000 to the locks. The white lists can hold up to 250 card holders and are stored locally within the locking device itself so that access through the doors is assured in the event of a system failure.
SimonsVoss SmartIntego Smart Handle
SimonsVoss SmartIntego Smart Handles use a contactless system to communicate with the user's card via the card reader integrated into the Smart Handle. It has an average battery life of five years and, like the cylinder, is maintenancefree in wireless online mode for up to 80,000 locking activations. The innovative snap-in installation can be used on doors up to 100 mm thick without any need to drill additional holes.
SimonsVoss SmartIntego Digital Locking Cylinder
SimonsVoss SmartIntego Digital Locking Cylinder provides high security standard, flexibility and is also extremely easy to fit. It is installed in minutes with no need for any wiring or drilling. Standard button cells reliably ensure up to 80,000 locking operations in a wireless online network. An average battery life of five years can be expected in standby mode. In other words, like other SmartIntego components, the locking cylinder is maintenance-free for many years.
SimonsVoss SmartIntego Digital Padlock
SimonsVoss SmartIntego Digital Padlocks are available in manual and self-locking versions with different shackle diameters. A securing chain prevents the padlock from being stolen or falling onto the floor. It is suitable for outdoor use and can record who and when a lock has been opened.
Features
Add the flexibility of wireless locks to any door in a CEM Systems AC2000 secured facility
Unified management and monitoring of SimonsVoss SmartIntego digital locks along with AC2000 access control infrastructure
Simple, cable-free installation
Remote monitoring of alarms
Remote door/device opening
Supports iCLASS, MIFARE, DESFire cards
Offline cards using "white list" function for up to 250 offline cards with audit trail function
"Temporary construction white list" for up to 128 offline cards
Battery status transmission ("Quality of Signal" supported by the protocol)
"Escape return function" for Smart Handle activated as an option
Door Monitoring: Door Held Open event, Door Forced (manipulation)
Resources