emerald TS100f
Multifunctional touch screen access control terminal with fully integrated fingerprint security at the door.
emerald TS100f provides users with biometric security, card reader and controller all in one powerful device. Featuring a controller, advanced IP card reader and single biometric solution all in one, the emerald TS100f meets requirements for three stage identity authentication (card, PIN, and biometric verification) using one device.
The emerald TS100f has a bright 4.3" graphical LCD touch screen to display predefined messages and icons to cardholders depending on access privileges. It's built in mini PIR sensor provides energy saving motion detection and a multi-coloured LED provides users with a visual indication of access status. With hardened glass and an anti-glare coating, the emerald TS100f is durable enough for indoor and outdoor use.
Zoom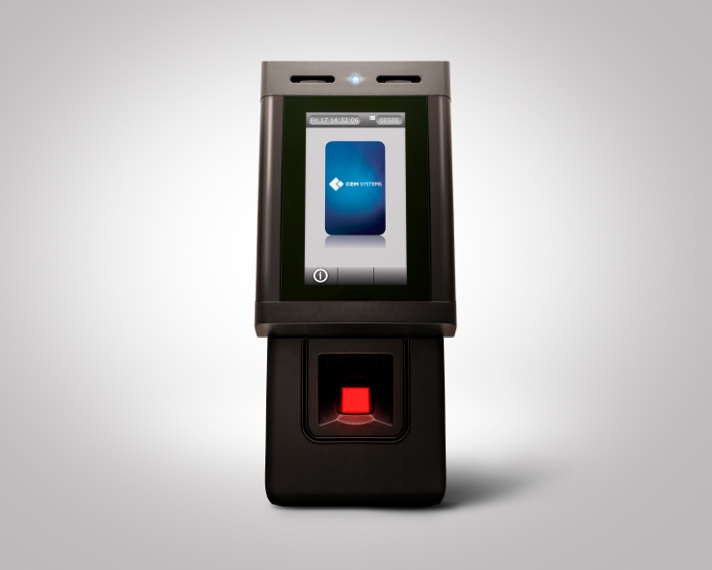 Single access control & biometric enrolment and network process.
Fingerprint enrolment is captured and stored via the AC2000 access control system at the same time as cardholder enrolment. This offers clients a single solution and eradicates the requirement to purchase a separate biometric reader and software application to link to the access control system.
Features
Industry's most multifunctional access terminal with integrated biometrics
Controller, advanced IP card reader and single biometric solution all in one that meets requirements for three stage identity authentication (card, PIN, and biometric verification)
Fast card and fingerprint verification, uses 1:1 fingerprint match at the door
Secure storage of fingerprints on the central AC2000 server and on the emerald internal database
Fingerprint module gives a high resolution scan with FIPS201 approved biometric algorithm
Durable enough for indoor or outdoor usage with an IK06 vandal resistance rating, and IP65 dust and water resistant rating
User-friendly 4.3" capacitive LCD touch screen
Intuitive Graphical User Interface enhancing user experience at the door
Scramble keypad option for Personal Identification Number (PIN)
Available with onboard PoE+ technology to power the terminal and additional door furniture
PIR motion detection
Remote upload of new firmware directly to the reader with on-screen indication
Maintenance Information / Security Intelligence Point
Ability to display live video at the workstation on intercom request, when interfaced with CCTV system (available with AC2000 v6.7 & upwards)
Ability to display advertising/ information announcements and personal messages
Resources