AC2000 Security Hub
AC2000 Security Hub is the state of the art central command and control application for the AC2000 access control and integrated security management system.
AC2000 Security Hub offers modern, centralized security management for the real-time monitoring and control of alarms and events across multi-sites and multiple security systems including access control, video, fire, intruder and building systems. Leveraging client server architecture, the powerful, highly intuitive Security Hub application provides a powerful and versatile feature set, enabling system operators to create their own command and control centre environment to suit their operations.
Zoom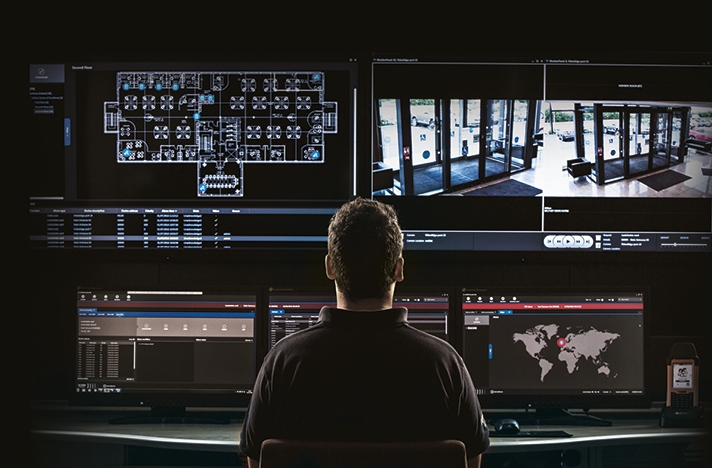 AC2000 Security Hub includes configurable applications including dynamic alarm processing, highly customizable alarm and event workflows, reporting, alarm escalation, event driven cause and effect mechanisms, inbuilt video interface (Video Micro-Viewer) and many more to provide a fully scalable, multi-user, multi-monitor security management command and control environment.

With eye-catching audio and visual event notifications, graphical maps and complete command and control operator functionality in one powerful user interface, AC2000 Security Hub enables security personnel to identify and respond to events in real time, on-time and according to priority. It assists in reducing response times to critical events and simplifies security operations, while at the same time increasing event visualisation and alarm accountability.
Features
Command and Control application for AC2000
Centralised central alarm management application for Access Control, Video, Fire, Intruder and Building Management (Using External Application Feature)
Advanced alarm processing capabilities
Unlimited customizable alarm workflows for every alarm type
Sophisticated alarm escalation feature with customizable time zones
Real-time graphical map display that can be tailored to meet every operators requirements
Oneshot and broadcast for remote opening and management of access control doors
Dedicated video micro viewers for real-time and archived alarm monitoring
Customizable device icon and alarm annunciation
Advanced user restrictions for multi-user applications, restriction access to site maps, floor maps, devices and alarms.
Dedicated alarm pop up window
Inbuilt system reports for quick access to alarm, alarm escalation and user history
Fully integrated guard tour events application
Fully integrated cardholder trace feature
Detailed in-app reports
Multi-screen support
All the reliability and resilience of the prior AC2000 AED (Alarm Event Display) application, but with a modern, seamless and highly intuitive user interface
Resources
Technical Documentation