Technology & Telecoms One Albert Quay
One Albert Quay, designed to Gold LEED standard, is a significant new office development in Cork City Centre and is billed as Ireland's smartest building. In 2016, One Albert Quay became the new global headquarters for Tyco and sets new standards in terms of design, scale and efficiency for both national and global companies.
Zoom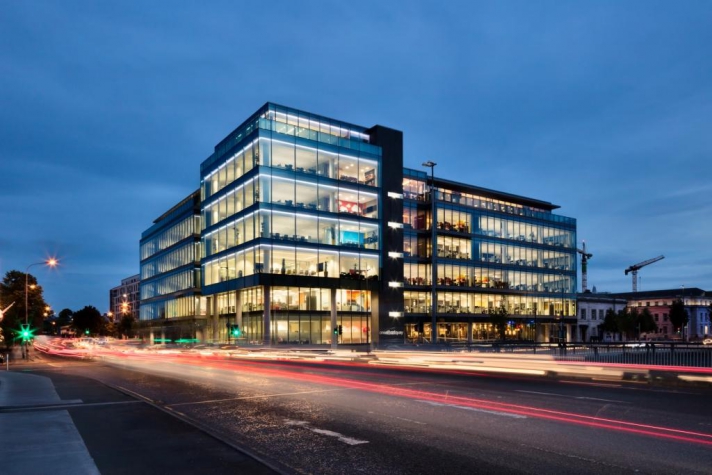 CEM Systems' AC2000 security management solution is the access control system for the building, supported by emerald intelligent access terminals and sPass readers to control key doors, lifts, car parking access and much more. American Dynamics victor also provides a unified video management solution for the One Albert Quay building, supported by a range of VideoEdge and Illustra cameras.

In this truly showcase building all critical systems from lighting, heating, power, access control, video, fire detection, fire suppression and more are all connected through the Tyco On platform. Tyco On is a Smart Services analytics platform that is uniquely designed to connect discrete systems, integrate multiple data sources, and reveal insights that enable you to make better, actionable decisions to improve performance.
Solution
From the construction phase of One Albert Quay through to the development and opening of this smart building, CEM Systems provided a range of security technologies that go beyond access control. AC2000 is deployed as the access solution for the whole One Albert Quay building, which is used by all tenants including Tyco. emerald access terminals are installed throughout the Tyco offices and in the main lobby of One Albert Quay, ensuring access to the building for only authorised employees and visitors. emerald TS300f fingerprint terminals are deployed at secure R&D areas in One Albert Quay, adding an additional layer of biometric security in these areas. The emerald intelligent access terminal and AC2000 Room Booking application is also used to book meeting rooms throughout the Tyco headquarters.

Smart Safety System
During the construction phase of One Albert Quay, the Entry Checklist feature on CEM Systems' emerald terminals provided additional onsite security and promoted Environmental Health and Safety policies. emerald Entry Checklist provides an additional layer of verification at an entry or exit point, by ensuring that card holders respond to a series of up to five questions before the door will open. At the One Albert Quay site, Entry Checklist was used to ensure that all construction workers had correct permits and training before entering the site.

Smart Lift System
The smart lift system at One Albert Quay is also centrally controlled with AC2000 and emerald terminals, and integrated with Schindler Lifts. When an employee or visitor swipes their access control card on the emerald terminal, this buttonless lift system uses automatic location choice depending on the users' access control privileges. The smart lift system then automatically brings the card holder to the floor they are working. This is a fast and efficient system, with zero latency between systems and enables energy harvesting.

More Smart Integration
Incorporated into the AC2000 system, the Bike Counting system enables the capture of information on how many bicycles enter and leave the building on a daily basis as part of Tyco Smart Building initiative. Integrated with car park barrier, automated gate and intercom, AC2000 also provides full access control at the One Albert Quay car park. The Cashless Restaurant system is also fully integrated with AC2000. This means that an employees' AC2000 access card acts as their wallet, and that no cash is needed on site.