CEM DESFire Smart Card
Pre-personalised Contactless Smart Card
The CEM DESFire 13.56MHz read/write contactless smart card can be used for a range of different applications from access control to other applications such as cashless vending and public transportation. It completes CEM's end-to-end DESFire solution by utilizing 3DES (Triple DES) encryption and featuring a pre-personalised card memory structure for customer convenience.
Using a standardised Mifare Application Directory (MAD), the card contains a structured file system offering security for multiple applications and to support future growth. Utilising Advanced Encryption Standard (AES) -128-bit or Triple DES (3DES) encryption, the CEM DESFire card information is securely stored on the card, ensuring that the card cannot be cloned and that only valid cards are granted access.
Zoom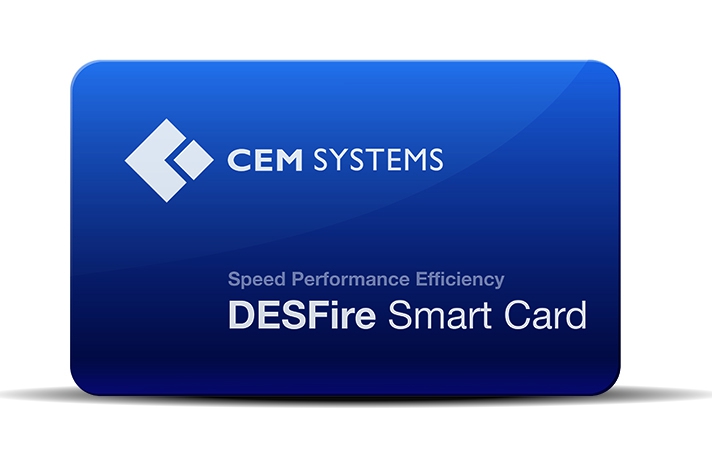 The CEM DESFire smart card delivers the perfect balance of speed, performance and cost efficiency when opting for a DESFire smart card solution. Featuring an on-chip backup management system and mutual AES or 3DES authentication, the CEM DESFire smart card is based on MiFare DESFire EV1 and can hold up to 28 different applications and 32 files per application. The size and access conditions of each file are defined at the moment of its creation, making the CEM DESFire Smart card a truly flexible and convenient product.
Features
Utilizes highly secure 13.56MHz MiFare DESFire smart card technology
Pre-personalised card memory allowing for usage in other systems such as cashless vending
Advanced Encryption Standard (AES) -128-bit or Triple DES (3DES) encryption between the card and the reader
Compatible with the CEM sPass reader and DCM 350 two-door controller, as well as S610 reader range, and the emerald touch screen reader range
Meets ISO standards for thickness for use with all direct image and thermal transfer printers
Add a magnetic stripe, barcode, anticounterfeiting, or photo ID to the card
Fully ISO / IEC 14443 A 1-4 compliant
Available for use on CEM readers: emerald touch screen reader range, S610e, S610s, S610f fingerprint reader & sPass reader
Resources