S3050
Portable hand-held card reader
The S3050 is a lightweight hand-held portable card reader for use with the CEM Systems AC2000 access control system. It can be used for ID card validation at temporary entrances or remote sites which have no power, and can be used as a mobile device for random checks within pre-defined zones.
A large full colour touch screen provides quick and easy navigation and also provides information about card validity, including cardholder details (cardholder photograph, name, date of birth, and card validity). The cardholder image display on the S3050 reader provides visual verification which is ideal for mustering support and minimizing the threat of card sharing.
Zoom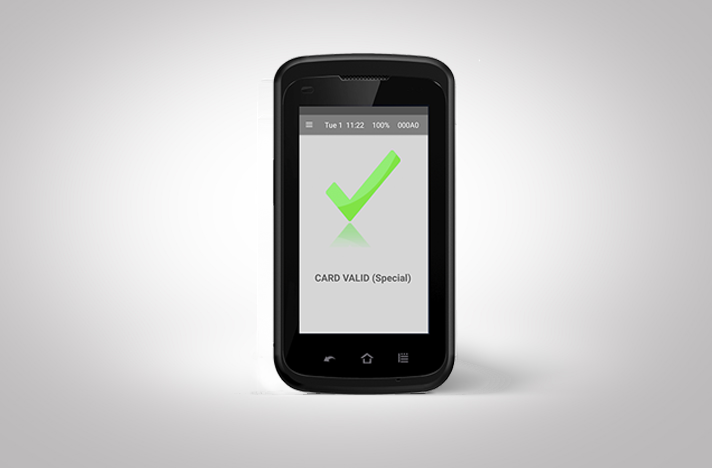 CEM Systems launched its first portable reader to the market 30 years ago. Today it is still renowned in the industry as a smart solution which continues to solve the customer problem of securing areas with no fixed wall barriers or gates.

Up to 250,000 card ID's can be held in the reader's database for differentiation between authorised and unauthorised personnel and up to 16,000 offline card swipe transactions can also be stored for on-line transmission to the AC2000 system. Card technologies supported include 125kHz HID Proximity, DESFire CSN, HID iClass/iClass SEOS, PicoPass Sector and CEM DESFire.
The S3050 portable reader can be used in a wide range of scenarios where mobility is paramount. For example, it can be used by a security guard at construction sites, bus and train stations, airport airside / landside boundaries, and random checks within large commercial sites.
Features
Dual credential authentication through card swipe and visual confirmation of cardholder photograph
Hand size and robust
Authenticate cardholder details anywhere, even if mains power is unavailable
Large internal memory capacity storing up to 250,000 card records on-board
Internal capacity for up to 16,000 offline transaction events
High-res 4.5" display touchscreen with stylus pen
Connection via WiFi or USB Ethernet hub
Applications include construction site access, temporary entrance gates, guard tours, and a variety of off-site locations
Roaming across pre-defined zones
Mustering at safe areas with muster count and mini report Occupancy for head count in a defined area
Support for 125kHz HID Proximity, DESFire CSN, HID iClass/iClass SEOS, PicoPass Sector and CEM DESFire
Snap-on battery packs available to provide additional power
Resources